Купить Astro Slide 5G Transformer 8Gb/128Gb Dual SIM - Factory Unlocked

Astro Slide is the first 5G smartphone with a keyboard and is the fastest 5G device announced to date.  Astro's revolutionary RockUp™ slider hinge transforms the powerful 6.39" touchscreen smartphone into a mini laptop, featuring Planet's signature tactile backlit keyboard.
Astro Slide Is great for emails, messaging, editing documents, making calls and taking snaps. Astro's 5G communications offer fastest upload and download speeds for true productivity on the go.  Astro Slide runs Android 11 OS with a multi-boot option for supporting Linux.  Perfect as your daily driver!

Quick Facts
First 5G handheld device with full physical keyboard
RockUp™ slider hinge mechanism combines all the power of a mini laptop  with the functionality of a smartphone
Device features a large AMOLED 6.39" touchscreen display and a 48MP camera
Astro runs Android 11 and also supports Linux OSs, with a multi-boot option
Big enough to be the only device you need to carry, and small enough to fit in your pocket, it's a true all-in-one replacement for both your mobile phone and your laptop

The Planet story enters a new era...
At Planet Computers, we never stop innovating. Over the past two years, we have delivered our award-winning Gemini PDA and Cosmo Communicator devices to over ten thousand backers, who supported our mission to kickstart a new mobile computing revolution.
The revolution continues as we embrace the latest mobile technologies and trends, coupled with our passion for typing, writing, creating on the go.
We are extending the range of Planet devices with the brand new Astro Slide, our flagship 5G transformer smartphone.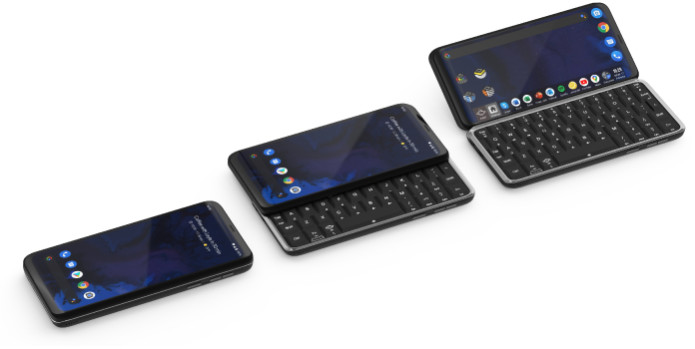 Once again, we have listened to our backers, who wanted more power, a large touchscreen always accessible, but also want to easy access to Planet's signature backlit keyboard - without compromise.
We are fully embracing the power of 5G, and we decided to go "all in" to provide the ultimate 5G keyboard experience on the Astro. To have a smartphone that can transform into a pocket computer with simple thumb action is truly a leap in usability and functionality – great for both work and play.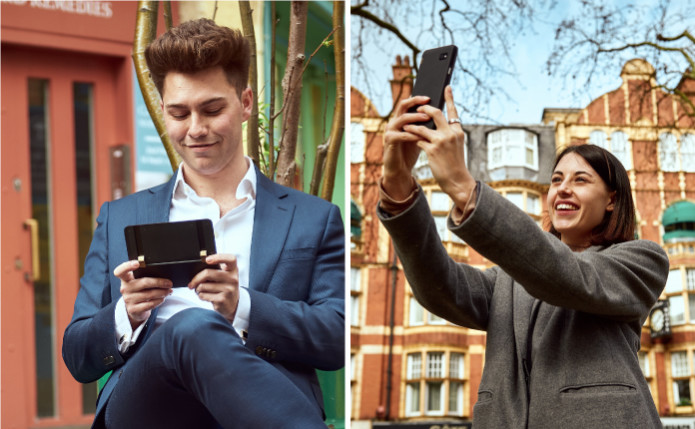 It's the ultimate in mobile design, power and usability.
Astro Slide is the first of Planet's transformer smartphones with a large 6.39" touchscreen display.  Featuring Planet's revolutionary patented RockUp slider hinge, Astro Slide reveals Planet's signature keyboard at the push of thumb.
The display gently tilts up to the optimal viewing angle transforming Astro into a powerful pocket computer.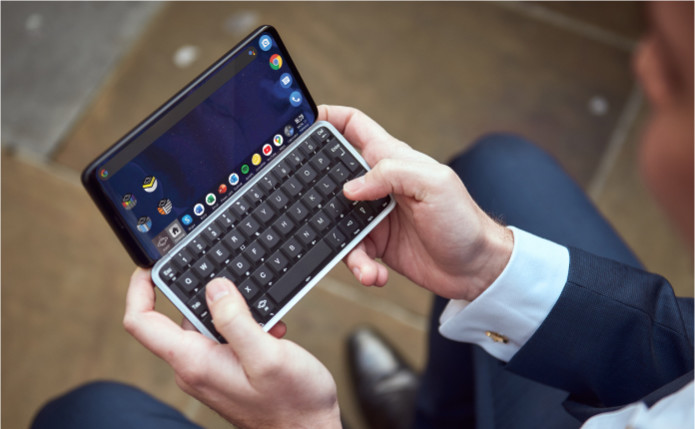 Astro Slide gives you the freedom to write, create, animate, communicate and be entertained in one familiar form factor.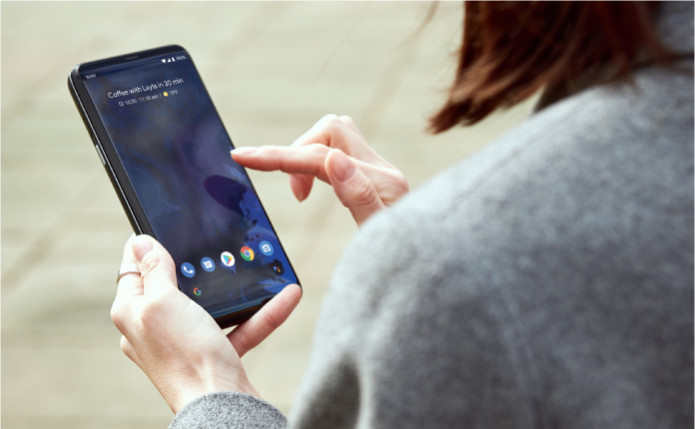 Astro Slide is the first 5G phone device with a keyboard to be announced to date. Powered by MediaTek's Dimensity 800 chipset with 8 super-fast cores plus advanced GPU and APU processors, it offers twice the performance of other 5G chipsets with significantly reduced power consumption, achieving download speeds of up to 2.39 Gb/s.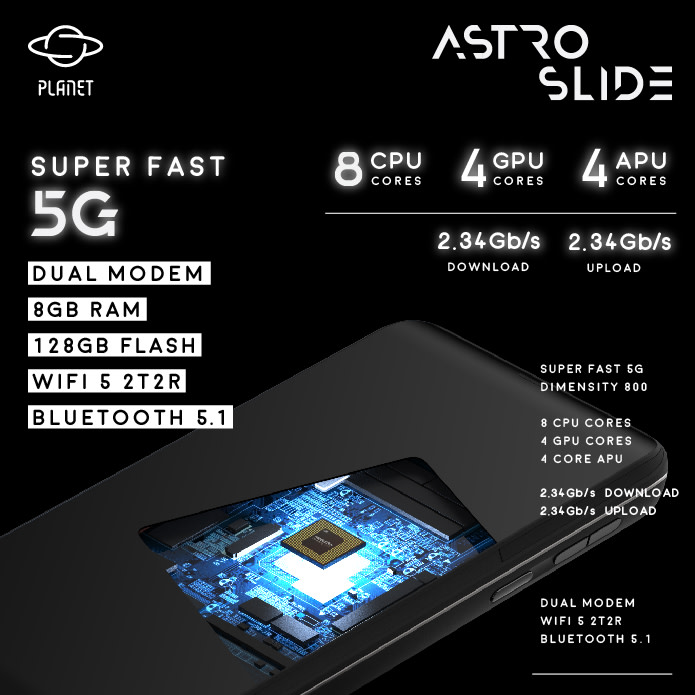 Astro Slide's battery will power a user through an entire day of work and play.
Astro Slide also features Wi-Fi , Bluetooth 5,1 and NFC communications and wireless charging. Astro has a 48-megapixel rear facing Sony-sensor camera as well as a front camera for video calling.
A revolution in design
The Astro Slide and its RockUp™ hinge slider mechanism have been designed by Martin Riddiford.
Martin is the inventor of the clamshell mobile device and the designer behind all the Psion and Planet devices to date.
Astro Slide has a truly revolutionary design, offering the convenience of a smartphone, as well as laptop keyboard productivity – beautifully crafted in one device – all of it in the palm of your hand. It's a no compromise solution and perfect as your daily driver.
Planet's signature backlit keyboard allows you to comfortably work at night or in dark spaces such as on long plane journeys without the need of external lighting.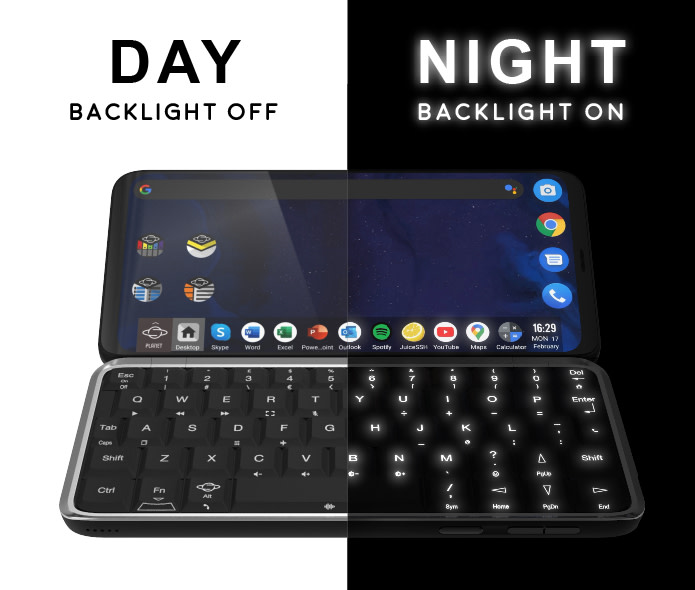 Key features
We've designed the Astro Slide to have all the features you need:
A newly-designed integrated physical backlit keyboard
A large 6.39" AMOLED touchscreen display with Gorilla glass
A hi-res 48MP rear camera
8GB of RAM and 128GB of Flash storage
Fingerprint sensor and smart toggle button for security and control
NFC for payment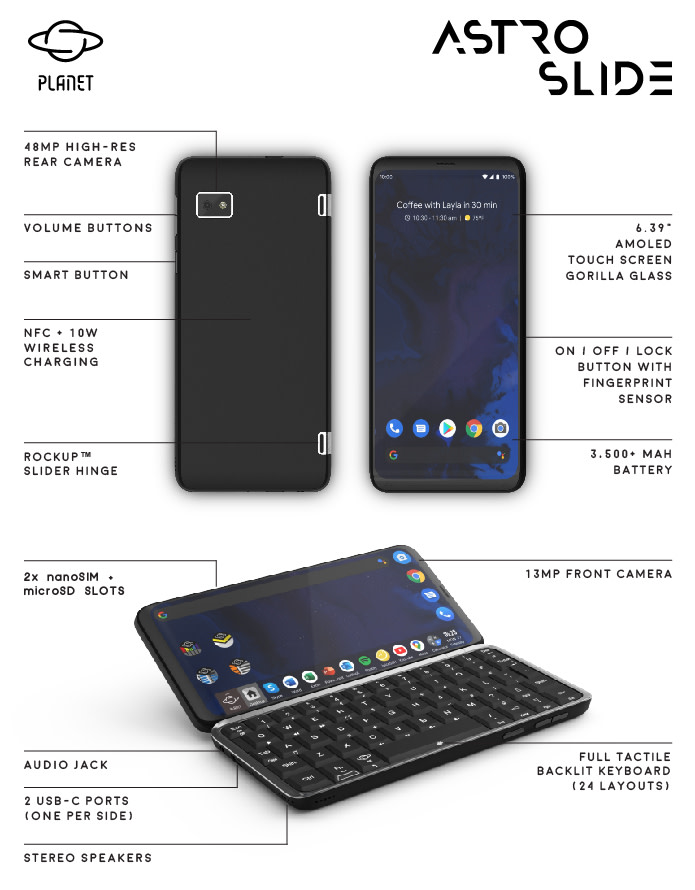 Other features of Astro Slide include:
Fingerprint sensor
2x Nano SIMs and 1x eSIM 
8GB RAM and 128GB of internal memory
a MicroSD slot for additional storage
2 USB-C ports and an audio jack
Software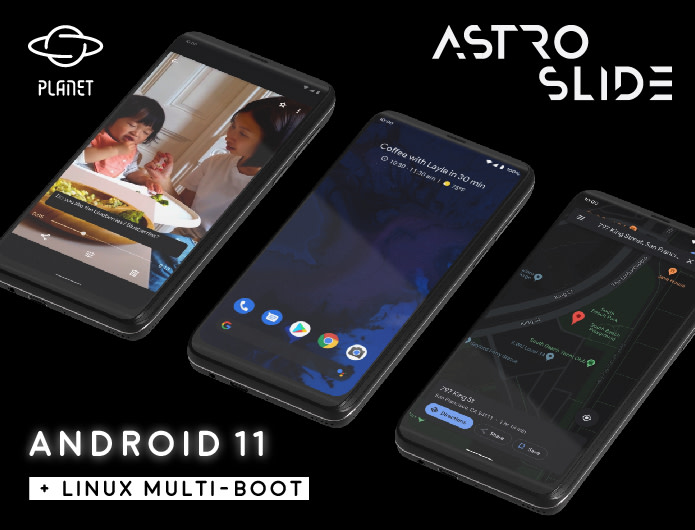 Astro is designed to run the latest Android 10 OS and all you favourite apps, as well as Linux-based operating systems with a multi-boot option.

You can easily run Microsoft Office for Android apps , such as Word, Excel, Powerpoint and Outlook , as well as Planet's own PDA software suite including the Agenda calendaring app, Notes app for notetaking and dictation, the Data database app and our email client, Airmail.

Technical Specification
 
 
Astro Slide (Initial Specification)

Network:

Wi-Fi

WiFi 5 2T2R

 

Modem

Dual 5G+4G World-wide modem

3GPP Rel. 15
NSA/SA
DL 2.39Gbps
2CC UL 2.39Gbps
2CC Sub-6GHz
2G / 3G / 4G / 5G Multi-Mode

 
VoLTE
Compatible
 
ViLTE
Compatible
 
VoWi-Fi
Compatible
 
 
Dual SIM operation
Dual Model 5G + 4G
Body:
Form Factor
RockUp™ Slider / Transformer
 
Dimensions
17.24 (W) x 7.65 (D) x 1.78 (H) cm , 1.87 with camera protrusion (H)
 
Weight
Approx. 300g
 
SIM
Dual nanoSIM + eSIM chip
Display:
Type
AMOLED Colour FHD+ (20 : 9)
 
Size
6.39 inch
 
Resolution
2340x1080, 403 ppi
 
Multi Touch
Yes
 
Protection
Scratch resistant Gorilla glass (Corning 3rd gen)
Platform:
OS
Android 11 OS , Linux OS compatible
 
Chipset
MediaTek Dimensity 800, MT6873 Octa-Core 5G SoC 
 
CPU
4x A77 @ 2.6GHz
4x A55 @ 2.0GHz 
 
GPU
Arm Mali-G57 MC4 GPU Manhattan 3.0: 52fps
 
APU
3rd Generation Quad-core APU 3.0. Up to 2.5TOPS
Memory:

RAM

Card Slot

8GB -  Ultra-fast 4-channel LPDD4x

microSD

 
Internal
128 GB
Camera:
Rear Camera
48MP + Flash (Sony Sensor)
 
Front Camera
13MP
Sound:
Speakers
Stereo Speakers
 
Microphone
Integrated ambient Microphone
 
3.5mm Jack
Yes
Comms:
WLAN
802.11 a/b/g/n/ac/e/k/r/h 
 
Bluetooth
v5.1
 
GPS
AGPS, Glonass, Beidou, Galileo

Band L1 + L5 GNSS

 
NFC
Yes, including payment
 
FM Radio
Yes
 
USB
2x USB Type C, OTG support, Display Port support (via adapter cable)
Features:
Keyboard

Mechanical full keyboard

24 Layouts

Arabic, Chinese, Croatian, Czech, Dvorak, Finnish / Swedish, French, German, Greek, Hebrew, Hungarian, Icelandic, Italian, Japanese, Korean, Norwegian / Danish, Polish, Portuguese, Russian, Spanish, Swiss, Thai, English UK, English US

 

Charging

10W Qi Wireless charging + Fast charging
 

Sensors

Accelerometer, compass, light sensor, gyro, magneto-sensor
 
Fingerprint

Buttons
Finger print sensor on side on/off button

Volume up / down, on/off/lock button with fingerprint sesnor , smart control button
Battery:
 
LiPo 4000mAh battery 
Misc:
Colour
Black 
Warranty

Standard Warranty Period:

30 Days for devices including Smartphones and Tablets.
90 Days for audio/video products including speakers, headphones, headsets, cameras.
60 Days for wearables and smart gadgets including smart watches, fitness trackers and gadgets.

Warranty period take effects from the date when the shipping invoice is issued.

Standard Warranty:
PDAPlaza provides a 30 Days repair warranty for devices (accessories including batteries do not carry any warranty). The terms and conditions for a standard 30 Days warranty are as follows:

If the goods are found to be faulty within 7 days, customers are entitled for either a full refund or replacement. Any item may be returned for any reason within 7 days from the date of dispatch. If you want to return the goods which are NON-DEFECTIVE within the 7 days period, please note that the returns should be in AS NEW CONDITION with FULL PACKING and DOCUMENTATION. If the goods are not in AS NEW condition or missing any packaging or damaged packaging, we reserve the right to refuse refund or a restocking fee of up to 25% will be charged depending on the condition of the returned goods. Delivery costs will not be refunded. To return the goods, please contact our Customer Service to request an RMA and follow the instructions to authorise the return of goods. Please refer to the Returns section below for details.

If the goods are found to be faulty after 7 days and within 1 month of purchase, the customer can send the faulty goods to our office, together with relevant invoice and PDAPlaza can arrange for repair services. Post fault investigation and within the specified warranty period, PDAPlaza repair service will be actioned at our discretion (please see Exclusions below) within 30 working days, at no cost to the customer. If PDAPlaza cannot repair the item within this period we will supply the customer with a suitable B-Stock item. If we do not have suitable B-Stock to replace we will source an equal alternative upon agreement with the customer or offer credit for the next purchase. For repair services covered by the warranty, the cost of shipping the goods back to the customer will be borne by PDAPlaza. Please contact our Customer Service to request an RMA and follow the instructions to authorise the return of goods. Please refer to the Returns section below for details.

If the goods are found to be faulty after 1 month of purchase, the customer can send the faulty goods to our office, PDAPlaza will arrange for repair services. Customer has to bear the repair costs. PDAPlaza will test the faulty unit and will provide a quote to the customer and if the customer agrees, we will proceed to repair the faulty unit as we see fit. If not, this will be communicated and the device will be returned to the customer, unrepaired. There will be a nominal shipping and handling charge on top of the repair charges. Shipping charges for returning the items shall be borne by the customers if they decide against repair.

Standard Warranty Coverage

Warranty covers the following:

A. Manufacturing software malfunction

B. Manufacturer or hardware defects

C. More than three dead pixels

Standard Warranty Exclusions:

Warranty does not cover the following:

A. Any damages unrelated to manufacturing defects.

B. Product malfunction or damage resulting from liquids or moisture.

C. CID (Customer Induced Damage) and NDF (No Defect Found). CID and NDF status will be notified to the customer when RMA inspection process is completed.

D. Software defects. Damage caused by applications or firm wares which are not compatible with the device.

E. Product has been tampered, repaired and/or modified without official permission. Tampering, rooting, modification or removal of the serial number label shall immediately void the applicable warranty.

Inspection and return shipping fee will be charged at the customer expense when the above causes of RMA return damages are present.

* Please note that for returns of water-resistant device, we cannot guarantee continued water-resistance after opening up the device.
Extended Service Plans

1 Year Extended Warranty
After many customer requests for PDAPlaza Canada to offer extended warranty services on all our products, we have answered the call.

You love your new phone so why not you protect it too.

Because life is unpredictable, extend your device protection from 2 months to 12 months and protect your device from mechanical and electrical failures that just sometimes happen.

Now, for only $165.00CDN you can extend the warranty of your device by one year, from the date of purchase. This extended warranty must be purchased at the time of the initial order of your device, and must be in place, before your device ships to you. The extended warranty is added to the warranty already in place on your device, at the time of purchase.

Why You'll Love Our Extended Service Plans:
- Protects Your Device From Mechanical and Electrical Failure, Including Touchscreen Failure, Power-On Issues, Antenna / Wi-Fi Failure, & much more
- Free Shipping On Returns
- If we can't fix your device, we'll get you a replacement at no extra charge!

Notes:
- Extended Service Plans do not cover accidental damage including damaged caused by drops, water, bending, or damage caused by installed applications or rooting
- Extended Service Plans must be purchased with device, and cannot be added once item has shipped
- Extended Service Plans cannot be refunded once item has shipped
- Extended Service Plans cannot be applied to b-stock, refurbished, or open-box items
- Extended Service Plans will not cover return shipping outside of the original delivery country
Returns and Repairs:

Please contact our Customer Service to request an RMA.

Products should be returned in their original packaging with all documentation, accessories, battery, stylus, cable, headset etc. enclosed in the initial shipment.

When you return your device, you will need to make sure that it is unlocked and free of security software that might prevent us from being able to access it. If the device is locked or disabled when you return it, we may have to charge you the full cost of the device and/or not process a repair/refund (if applicable).
Note: If you are not able to unlock or deactivate your device, please let us know before returning.

Please be sure that your device is restored to its factory settings without any personal data remaining prior to return. We will not be responsible for any use or disclosure of any data that is on the returned device during the assessment and repair process.